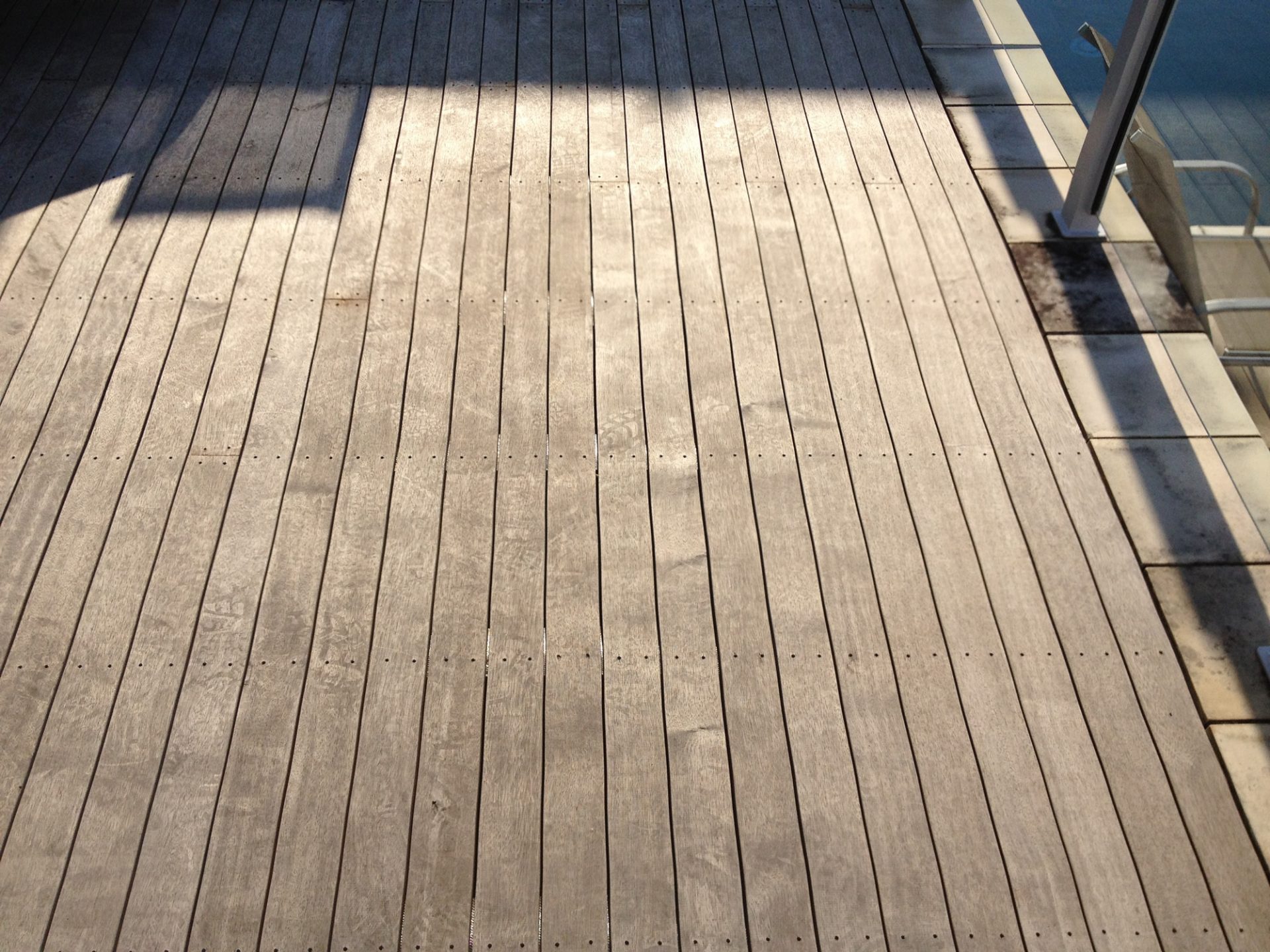 How to Clean Timber Deck Stains
Posted on

October 26, 2018
Spring is the perfect weather for alfresco entertaining; it's time to take pride in your timber deck.
With any type of hospitality, frequent use spills and accidents are inevitable and can stain or damage your deck or timber furniture. Now is a great time to learn how to clean decking and furniture in preparation for the entertaining season ahead.
1. Removing stains caused by food or drink spills
Food or drink spills can cause discolouration and stains that are hard to remove.
CUTEK® Quickclean is an industrial grade general purpose cleaner. It cuts through grease and stains and will generally be tough enough to clean up food and drink spills on tables, chairs or decking boards.
Apply the product liberally and leave it on the surface for 10 to 20 minutes. If the stain is stubborn it may be necessary to scrub it with a stiff fibre brush. If it still refuses to budge, try CUTEK® Restore for a deeper cleanse.
When all traces of the stain are removed, the wood is ready for coating with CUTEK® Extreme CD50.
2. Restoring timber with black or grey discolouration
Greyness can be caused by significant weathering if a deck is particularly exposed. Metal objects left sitting on the deck for a prolonged period, such as nails or metal furniture can also cause grey or black stains.
An application of CUTEK® Restore will keep working for 24 hours to restore oxidized, grey timber while enhancing the grain.
After cleaning, the deck or furniture can be treated with CUTEK® Extreme CD50 to protect it from further moisture damage.
Adding a CUTEK® Colourtone will enhance and maintain the freshly oiled natural look of your timber.
3. Removing and treating mould or fungus stains
Decks that are shaded are pre-disposed to issues with mould or fungus. The problem often covers a large surface area.
Sweep the deck thoroughly with a stiff fibre brush, taking care to work into the corners where mould and fungus often build up.
CUTEK® Restore is a professional grade deck cleaning product that will eradicate traces of mould and fungus. It keeps working for up to 24 hours. Be sure to complete a patch test first to determine how long to leave it on.
Although CUTEK® Restore is not considered a strong defoliant, take care to protect adjacent vegetation before you begin.
Using the right products is an essential component for cleaning up and treating timber stains or damaged wood. All traces of the issues can be removed from decking and furniture resulting in a fresh, as-new look to your outdoor entertaining space.