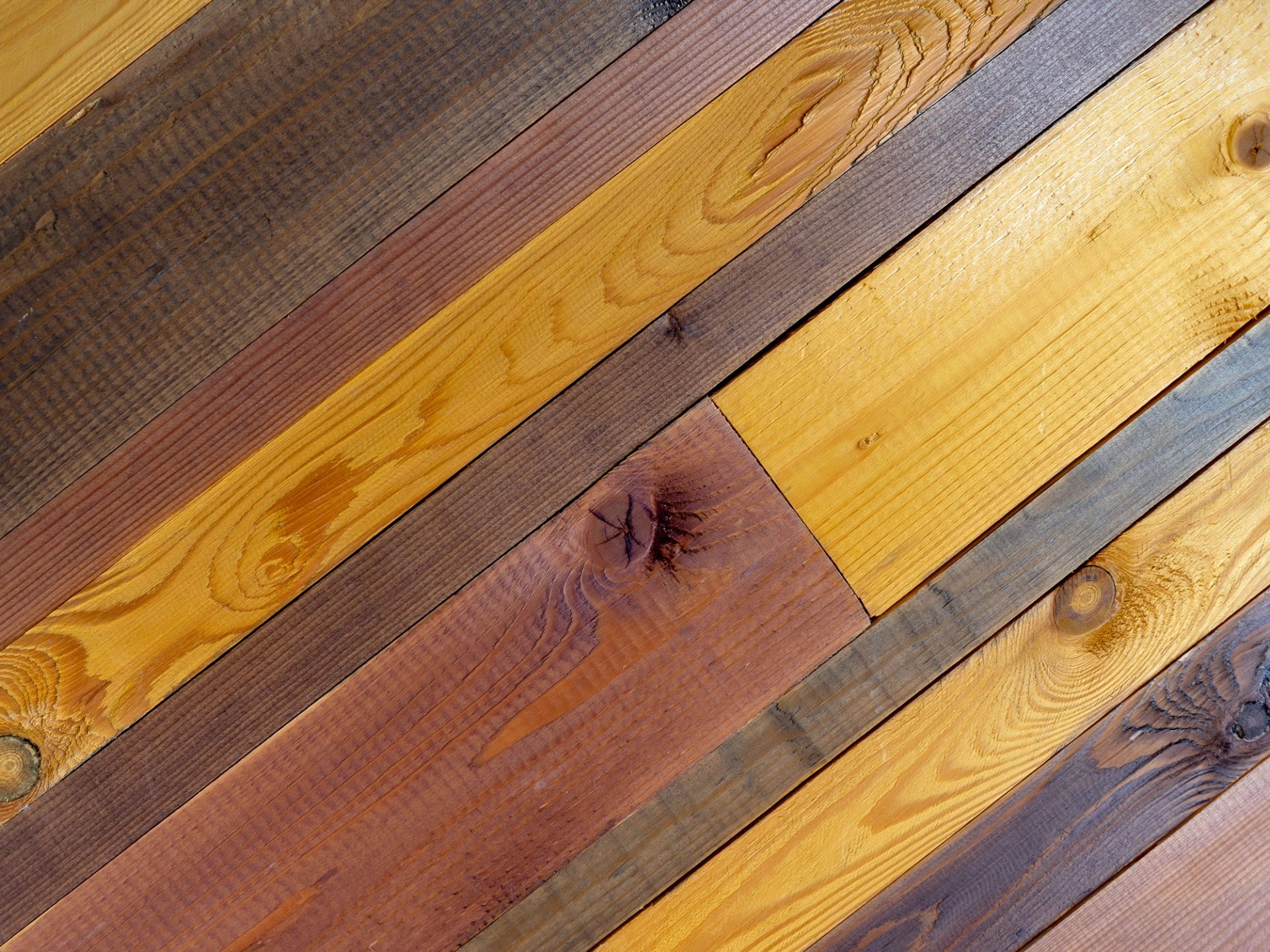 Timber oil vs stain vs varnish vs paint
There are many types of timber treatments and finishes available. Although each is different, terms such as 'timber oil, 'stain' and 'varnish' are often used interchangeably.
We examine the properties of some of these popular products and when each might be used.
Wood stain
Purpose: Designed to penetrate and change the colour of wood while leaving the grain visible.
Advantages
Highlights the natural beauty of the wood
Can be colour matched to your styling
Offers some wood protection
Wears away gradually, only requiring periodic re-coating
Easy to clean and maintain
Disadvantages
Doesn't offer a lot of protection to the wood, especially in harsh environments
Can raise the grain in wood
After staining, oils or varnishes can be applied to the wood as a protective layer.
When to use: To expose the natural beauty of a timber installation.
Varnish
Purpose: Varnish is an older finish made up of oils, resin and solvents that coats the wood as a protective layer.
Varnish can be compared to paint without the pigment.
Advantages
A protective coating can be applied after stains
Ensures the natural grains of the wood remain exposed
Durable and hard wearing
Choice of matt, satin or gloss like paint
Exterior varnishes are often microporous and have an added fungicide
Available as a 'fire retardant' treatment
Offers UV protection (where stated)
Disadvantages
Varnish can't be used on its own as it doesn't protect the wood inside
Accentuates stains, bumps and marks so preparation of the timber is essential
Dries slowly
When to use: When finish is important for decorative purposes and when a project requires the natural timber look to be retained.
Polyurethane varnish
Purpose: Tough protection for wood after staining.
Advantages
Can be used in place of varnish with the same benefits and more
Extremely durable with a hard finish
Heat resistant
Disadvantages
Has a plastic, unnatural look about it
Not UV resistant (unless specifically stated on product)
When to use: Applications where a durable surface is required, especially in high traffic areas.
Combined Products
There are some combined stains and varnishes available on the market designed to be applied for one-step colour and protection.
These varnishes with added colour can be a time-saver, however they may need more maintenance and reapplying more frequently.
Paint
Purpose: To protect and change the look of timber.
Advantages
Many different colours on the market
Choice of matt, satin or gloss
Can be considered aesthetically pleasing
Can cover up unsightly timber
Available as a 'fire retardant' treatment
Durable and hard wearing
Disadvantages
Coats the top of the wood rather than penetrating the wood
Hides the natural beauty of timber
Can peel and look unsightly particularly after exposure to the elements
Surfaces must be thoroughly prepared before application, usually including sanding
Is expensive to reapply when used on vast areas
When to use: In situations where it is desirable to cover or weatherproof timber without exposing the natural grain at all.
Wood oils
Purpose: Designed to bring out the character in wood whist offering some protection.
Advantages
Brings out the natural beauty in wood (more so than a stain) and makes the grain 'pop'
Replaces natural oil in wood that dries out over time
Adds protection against moisture
User-friendly; easy to apply and maintain
Long-term, cost effective option
Disadvantages
Traditional wood oils aren't as durable as varnish
Oils are not easily covered with varnish or paint
The CUTEK® Difference
CUTEK® exterior wood oils are a professional option that offers more protection than traditional wood oils as they works from the inside out by deeply penetrating the timber. CUTEK® oils are long lasting making them a great choice for timber exposed to the elements. CUTEK® Extreme CD50 has been developed for tough conditions.
CUTEK® timber protection oils are designed to minimise warping, cupping and splitting over time. CUTEK® oil is versatile, a Colourtone can easily be added for a stunning effect.
Timber is amazingly versatile, with the right level of care it can be used for a vast array of projects. Wood does need to be looked after and treated with respect in order to ensure that it retains its beauty over time. Choosing the right timber treatment or finish for an installation is critical.