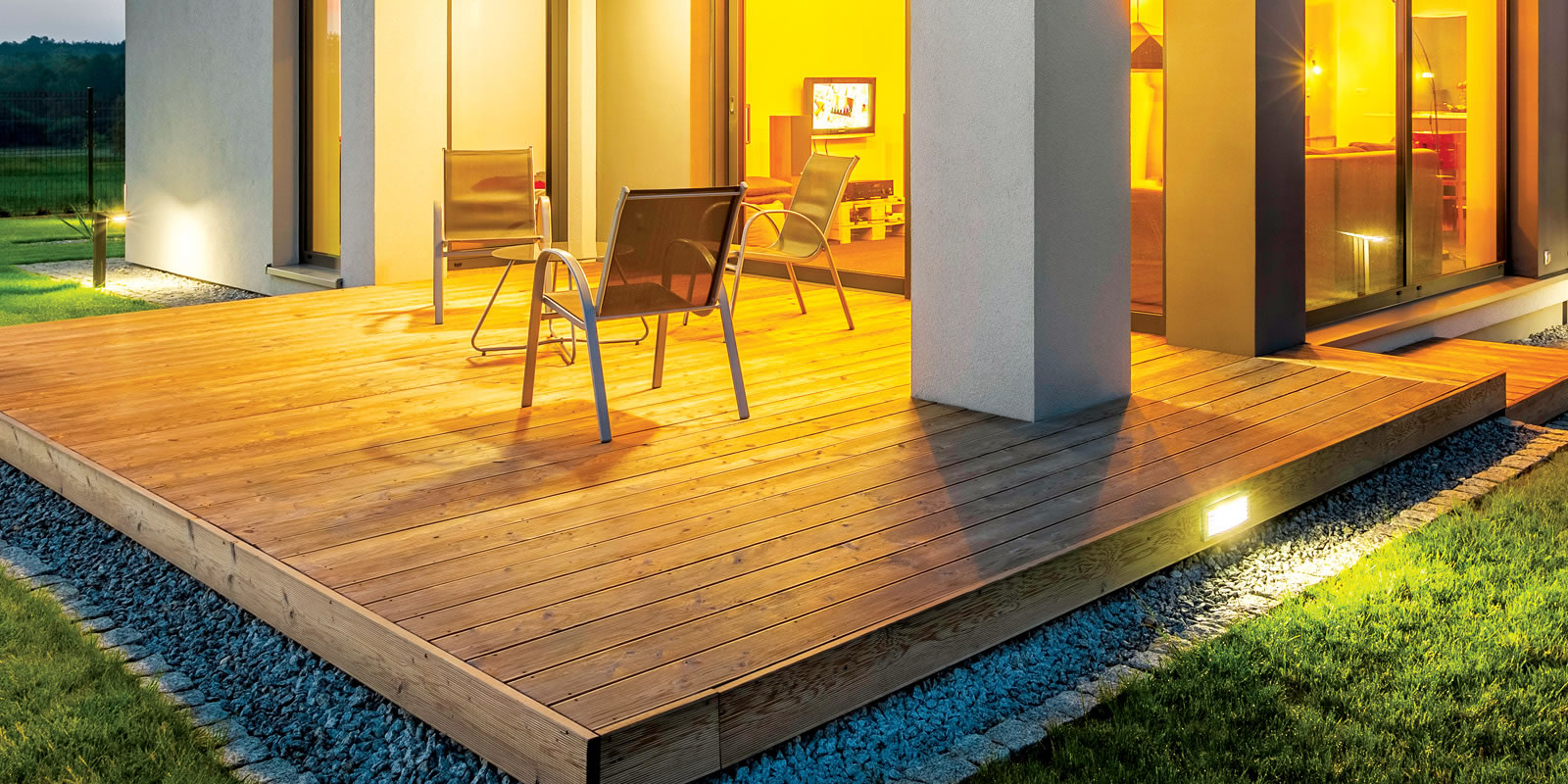 Which timber is best suited to your decking project?
Posted on

August 28, 2019
So, you've decided to use timber for your deck. Now for the hard part. It's time to decide which timber is best suited to your project.
Factors to consider in choosing a timber species include appearance, where the deck is to be located, ongoing maintenance requirements, budget and availability.
Appearance
Timber is often chosen for its natural beauty and good looks. Exposing the grain can have a dramatic and aesthetically pleasing effect.
When choosing a timber species, consider what colour you would like for your deck. Enhancing the natural hue of the timber can be achieved by using a Colourtone. By choosing a shade that matches the natural colour of the wood, the knots and grains will shine through. Building up the colour will make a style statement.
Location
Choosing a timber that will withstand the weather conditions it will be exposed to is critical.
A high level of exposure to rain, sunshine and even wind will require a hardy species. Using CUTEK®'s wood protection system will guard against the elements and ensure a good looking deck for years to come.
Ongoing maintenance
Whichever material you choose, your deck will need regular maintenance to keep it looking great. Keep in mind that some decking timbers are quicker and easier to maintain than others.
Using a CUTEK® protection oil will help, in extreme conditions choose CUTEK® Extreme CD50, specifically formulated for the toughest climates.
Budget and availability
Decking timbers vary in price, from more expensive hardwoods to lower-cost treated pine.
If you are working to a budget, ensure that you plan for the space that needs to be covered and bear in mind the qualities you require to suit the purpose of your decking. More widely available timbers tend to be less expensive and easier to source, especially if you're on a tight timeframe.
Hardwoods
There are many hardwoods to choose from that are suited to decking projects.
Pros of hardwood
Can produce striking installations
High quality, durable timber
Tend to cost less than composite decking
Cons of hardwood
Some species prone to extractive bleedout or ironstain
Likely to cost more than treated pine decks
Can be difficult to drill or nail
Hardwood Species
There are many hardwood species to choose from. Merbau's warm red-brown tones make a striking deck that invites year-round use. The species is durable yet can be less expensive than other hardwoods.
Ironbark is the most durable hardwood for decking and offers longevity. It is extremely fire, termite and rot resistant. On the flip side, its high density can make it hard to work with. On account of its strength, Ironbark is without doubt one to consider for installations that will be highly trafficked or for poolside decks.
The rich brown of Jarrah makes it a popular choice. Jarrah can be expensive but is also fire resistant. If left unsealed Jarrah will turn a lovely grey colour over time. Blackbutt is another timber with high resistance to fire, but is more prone to ironstains.
Spotted Gum is widely used for decking on account of its durability and strength. It is sustainably harvested in Australia making it an environmentally sound native choice.
The species is also fire retardant and is very dense with low levels of shrinkage. Spotted Gum tends to bleed less than some other hardwoods, and it has a broad colour range making for unique applications.
Yellow and red stringybark are durable enough for outdoor use. Yellow stringybark is usually cheaper than red. Both hardwoods can exhibit borer holes, something to bear in mind aesthetically before choosing it for your deck.
Using a high performing protection oil such as CUTEK® Extreme CD50 or CUTEK® Wood Preservative will ensure your hardwood deck endures harsh climatic conditions to look stunning all year round.
Treated Pine
Treated pine is a cost-effective choice but won't have the same durability of a hardwood.
Pros of treated pine
Lightweight and versatile to work with
Affordable
Pressure-treated to withstand decay, fungi or termites
Can be stained or painted to change its appearance
Cons of treated pine
Not as aesthetically pleasing as a hardwood
Can be restrictive in that it has already been treated
Needs regular oiling to protect against the elements
CUTEK® Extreme CD50 or CUTEK® Wood Preservative can be used straight on pre-treated pine without using a preparation treatment first.
CUTEK® Restore is a professional grade wood restoration product that will prepare the timber for the protection oil. CUTEK® Wood Stripper will also prepare the timber and allow the treatment oil to penetrate and do its job.
If you are working to a tight budget, treated pine certainly has its advantages but these are traded off against its looks. Before purchasing treated pine for your decking project, check whether it is suitable for outdoor use.
The critical factors in choosing a timber species are desired appearance, location, ongoing maintenance, budget and availability. Working through each element will help you to arrive at the right solution for your project.