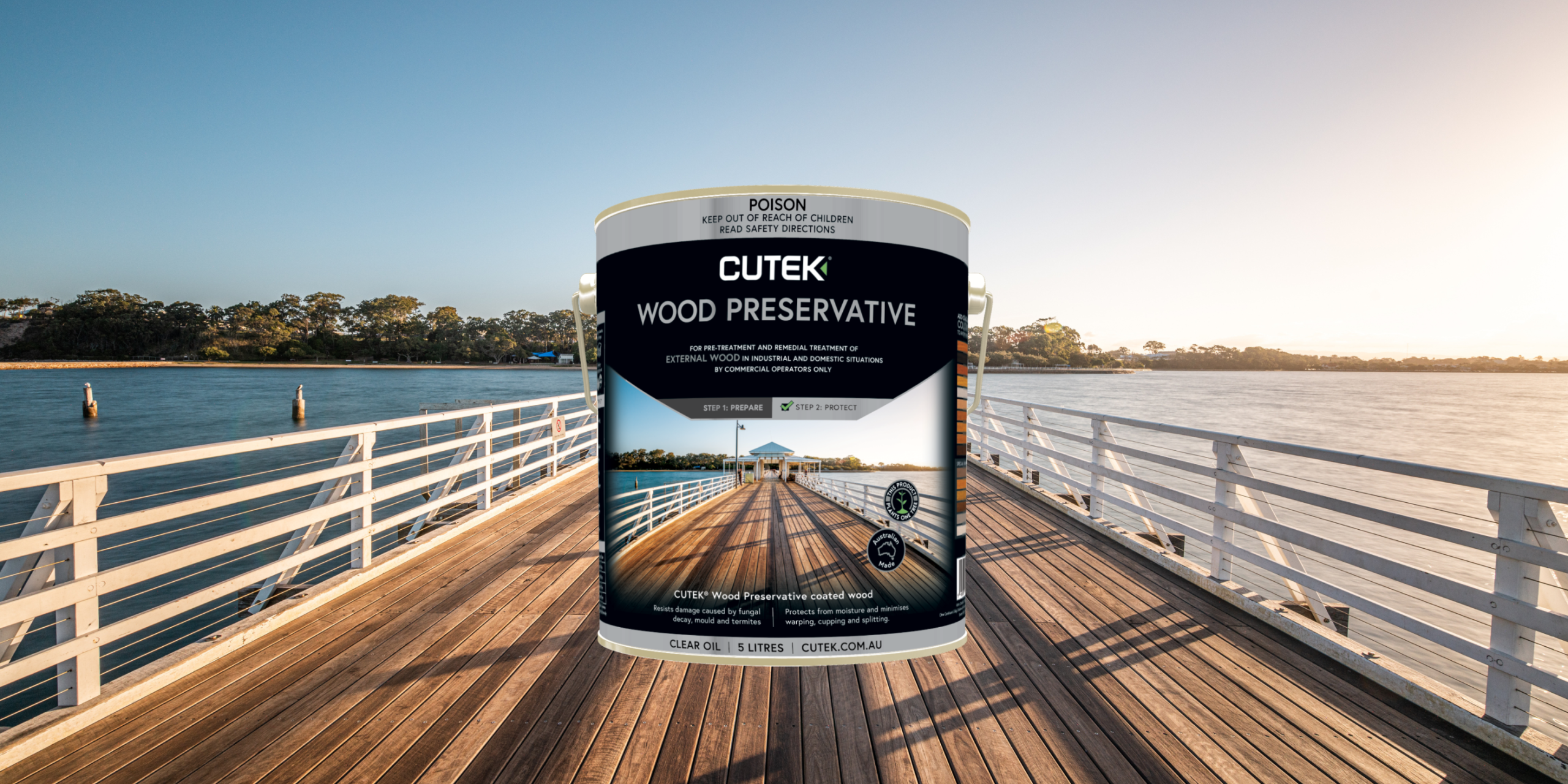 CUTEK® Wood Preservative: The Making Of
As a company, CUTEK® has been in the business of finding creative solutions to protect timber since the beginning. In a bid to always be at the forefront of timber protection and solutions, CUTEK® recently ventured into the licensed wood preservation market for post-application wood preservatives. Wood preservative coatings provide great value to timber structures, and to the wider environment, as they greatly reduce the danger of timber degradation due to biological attack or moisture movement. This in turn assists in significantly reducing the financial cost, environmental impact and time spent on prematurely replacing timber over the lifetime of the structure.
Proper, routine maintenance which utilises the best available coating system and products can significantly extend the service life of timber in built environments. As a brand, this goal – to prolong the service life of timber and reduce the number of trees requiring felling – is a key motivator behind our work. As such, CUTEK® worked to offer a high-quality wood preservative product, submitting several formulas for an external above-ground timber preservative product. Each formula was required to undergo vigorous testing including a biological challenge against several organisms which degrade timber, including various species of fungi and termites.
In order to ensure true and accurate results, a sample of timber coated with CUTEK® Wood Preservative formula was compared to two other timber samples – controlled samples – to determine its performance: one untreated piece of timber and a piece treated with the industry-standard wood preservative. These samples were subject to various weathering timeframes including: no weathering, six-months weathering, nine-months weathering and 12-months weathering. The intent of this was to induce preservative leaching, natural extractive leaching, timber UV degradation, and degradation due to moisture movement as natural timber degradation increases how susceptible the timber is to biological attack.
Data gained during the weathering process proved CUTEK® Wood Preservative's ability to prolong timber's longevity compared to the industry standard, due to its low product-leaching properties. Following the 12-month weathering process, each sample was subject to fungi and termite testing to further measure and test CUTEK® Wood Preservative's performance.
Trial 1: Termites
Termites are able to cause significant damage to timber structures. Despite this, there are many ways to mitigate this damage including reducing the timbers moisture content, minimising ground contact, using dense hardwoods as opposed to softwoods, and applying chemical hazard treatments (H2, H3). However, not all mitigating options are suitable for all projects. The nature of the structure itself, the type of hardwood selected and its ability to be treated, cost and availability of certain timber types are all deciding factors as to how timber structures may be protected against termites.
The testing CUTEK® Wood Preservative underwent to determine its ability to protect against termite deterioration was measured by the mass of timber which was lost upon exposure to timber destroying termites (Coptotermes acinaciformis). This was compared to industry standard treated timber and untreated timber samples. All samples were subject to heavy termite exposure.
As demonstrated by the table below, CUTEK® Wood Preservative performed impressively against the industry standard and untreated timber after 12 months of exposure to termites and weathering.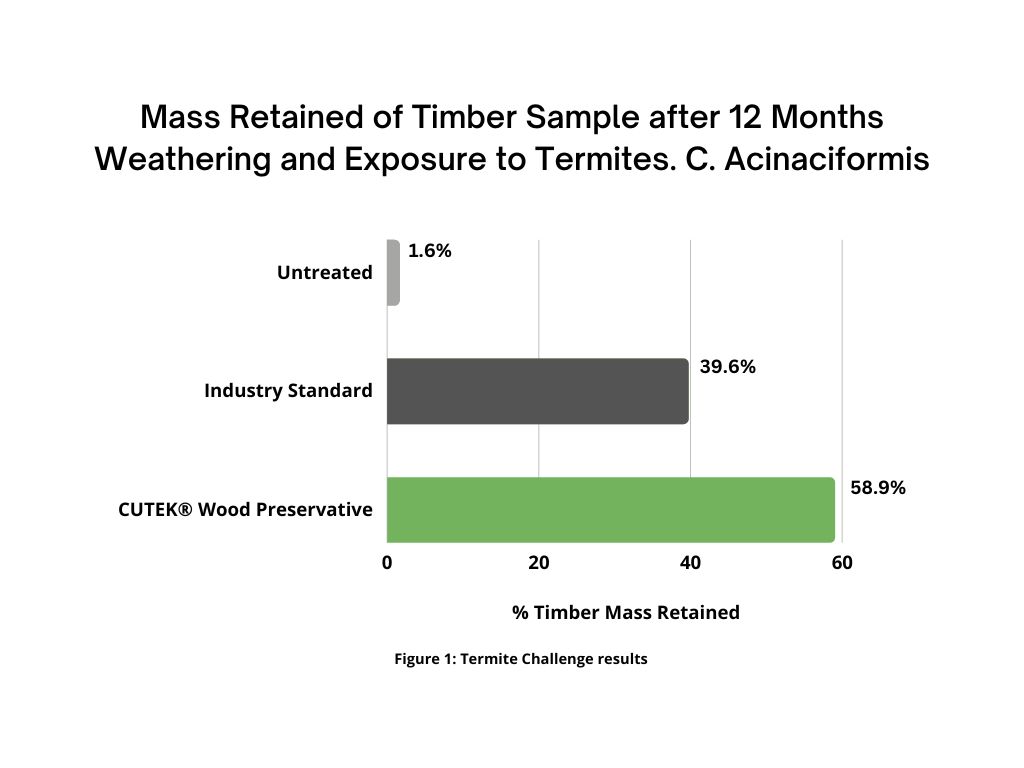 The industry standard treated timber retained 39.6% of its original weight and the untreated timber retained 1.6% of its original weight. In contrast, the CUTEK® Wood Preservative treated timber retained 58.9% of its original weight, performing significantly better than the industry standard. Additionally, as the protection abilities of CUTEK® Wood Preservative can be maintained with subsequent coats, timber coated with CUTEK® Wood Preservative can be expected to have an extended service life.
Trial 2: Fungus
Various species of fungus also cause significant damage to timber structures. One of the most common and easily seen types of damaging fungi is rot. Wood rotting fungi thrive in moist, dark environments such as in timber sheds or on decks and boardwalks, which receive little to no sunlight. Although there are many tactics used to combat rot damage, addressing the root cause prior to its appearance continues to be one of the best options available.
To prove CUTEK® Wood Preservative's ability to mitigate fungi issues, it underwent thorough testing to ensure it could provide the protection required. CUTEK® Wood Preservative was tested against five different species of wood-destroying fungi, and across all five species, performed better than the industry standard as shown below.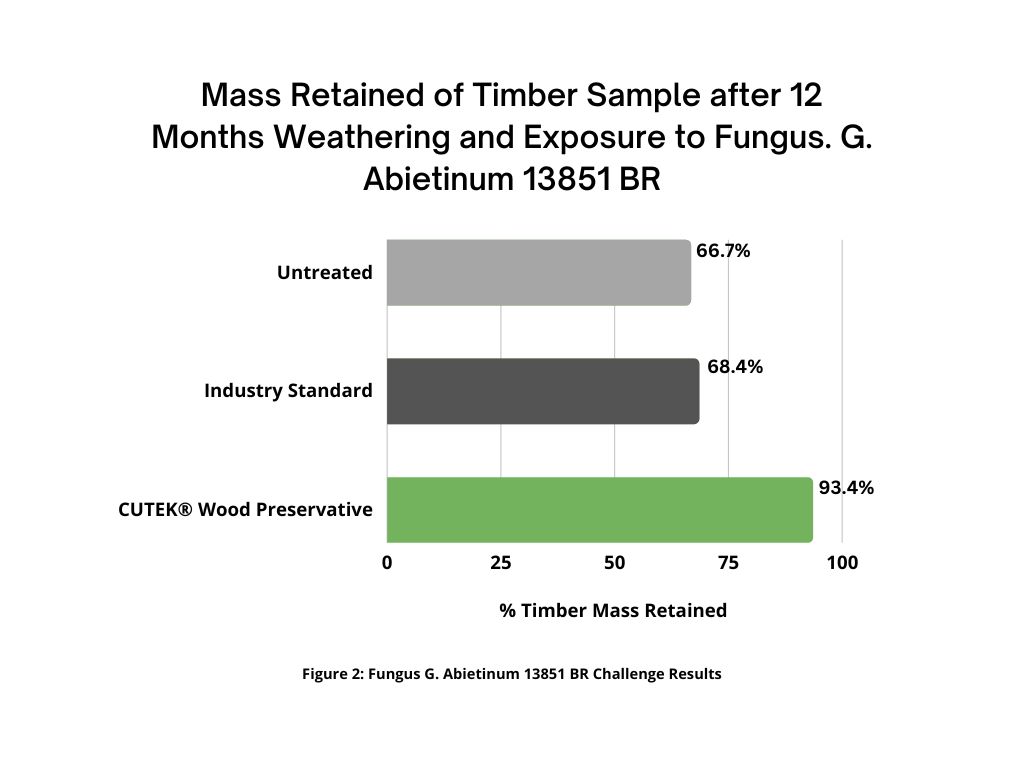 Following 12 months of weathering, the industry standard treatment provided little protection against this species of fungus as the retained mass was very similar. In contrast, the CUTEK® Wood Preservative treated timber was able to perform significantly better due to two key factors: its active ingredient is effective against this type of biological attack and CUTEK® Wood Preservative oil minimises the timber's uptake of moisture.
Conclusion
When venturing into new territory, there is always a question of success which necessitates thorough testing. Based on a series of tests and scientific comparisons, CUTEK® Wood Preservative became a proven performer against several species of wood destroying organisms, as demonstrated be the below graph.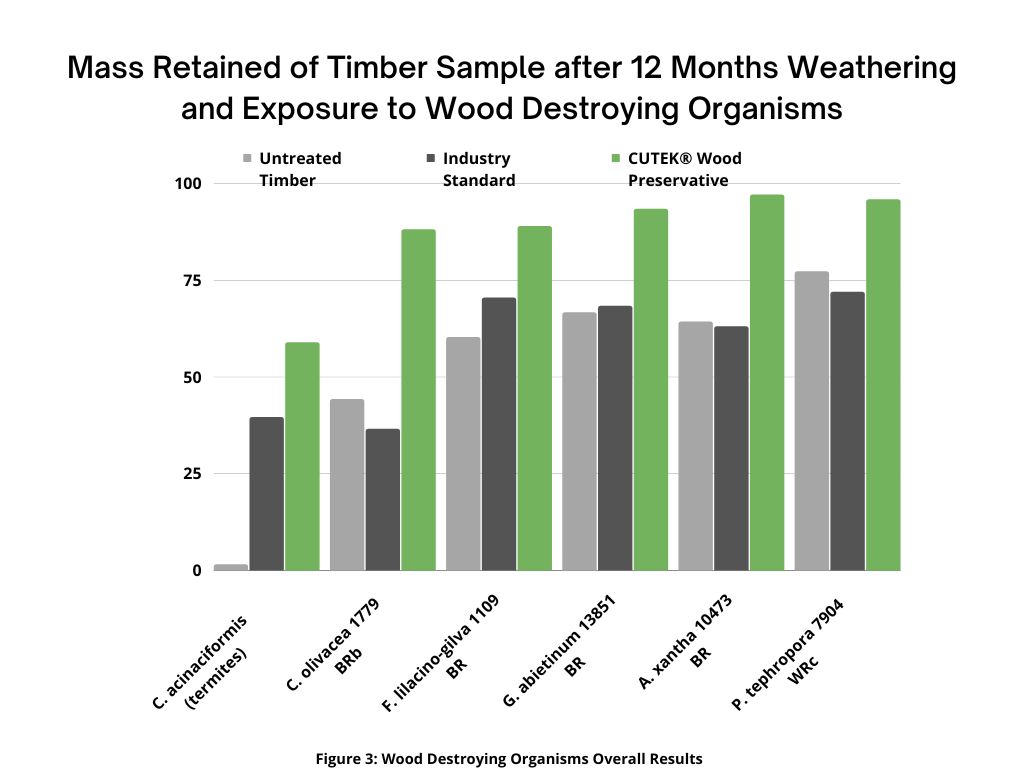 This proves that CUTEK® Wood Preservative not only protects timber in the short-term but outperforms alternate products long-term. Because of these indisputable results, CUTEK® Wood Preservative was able to be registered with Australian Pesticides and Veterinary Medicines Authority (APVMA) as a wood preservative and is now available as part of the core CUTEK® oils range.